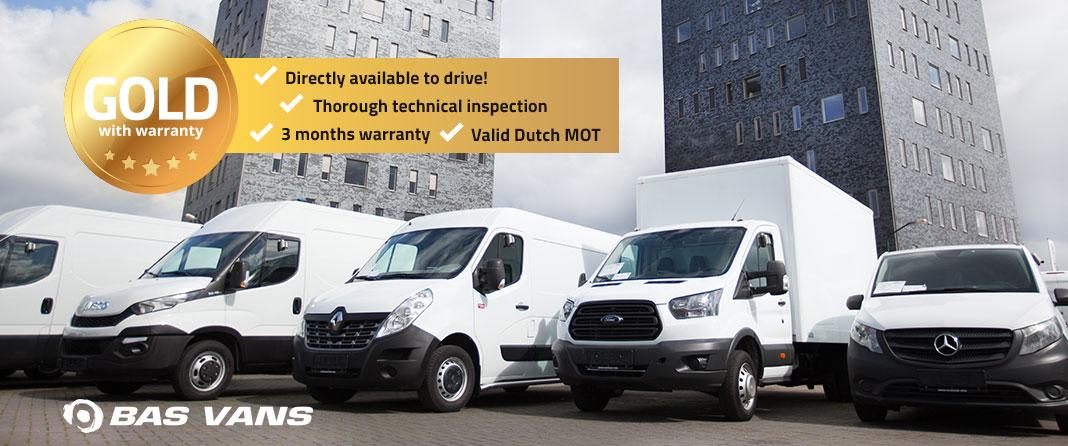 Gold Label – Vans directly available to drive!
Are you looking for a van with which you can immediately drive without having to worry about MOT, maintenance or reliability? In that case a Gold Label van is exactly what you are looking for! Our complete Gold Label stock is checked thoroughly, all required maintenance is performed and the MOT is still valid. All of the Gold Label benefits are;

3 months of drivetrain warranty
Every Gold Label van has a full warranty on the drivetrain and engine of 3 months after purchase. With a maximum of 10.000 kilometers driven.

Full maintenance is included in the price
Our mechanics perform a full maintenance on each and every Gold Label vehicle in our own modern workshop. What's included in the maintenance? We will replace all oils, filters, check all fluids, reset the service interval, lubricate the locks of the van, and we check the suspension and brakes of the van.

Full satisfaction guarantee
Is the purchased Gold Label van not exactly up to your expectations? That's not a problem at all. We will refund you the purchase price, or you can exchange the van for another van in our stock. You will have 30 days to make up your mind. During these 30 days you can always exchange the van, or ask for the purchase price, no questions asked from our side.

Thorough technical inspection from our mechanics
Your Gold Label van is thoroughly checked by our mechanics on 100 individual points before we put it up for sale. The technical inspection is attached to every vehicle and visible on our website for you to see. In this inspection report there are 100 points and the report is a snapshot of the technical state of the van at the time of the inspection.

MOT valid for at least 8 months
Our complete Gold Label stock is directly availale to drive and comes with Dutch license plates, a Dutch MOT which is valid for at least 8 more months. So there's no need to worry about this in the near future for you, BAS Vans has already taken care of this.

Our road assistance is available for you 24/7
If you've chosen for a Gold Label van but it happens to break down, there's no need to worry. We have a road side assistance which is available around the clock and will help you anywhere in the Netherlands. A skilled mechanic will help you continue driving, and if that's not possible you will be transported to the nearest service center. If necessary we will provide you with an alternative van. Are you in need of this service, call the following phone number:
+31(0)570 783 100
.

Extending the Gold Label benefits?
You can extend he Gold Label benefits as described above with a longer warranty of up to 6 months for an additional fee of only €500,- with a maximum of 20.000 km. If you want to make use of this offer please contact our sales team if you want to extend your benefits!