Workshop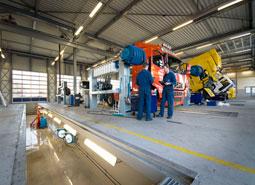 Workshop
BAS Trucks has an own workshop where over 50 mechanics are working each day. With an annual total of over 130.000 manhours, our workshop belongs to the largest in Europe.
Our workshop differentiates itself by the fast service and wide expertise. As such we are able to provide a solution for almost all your needs and wishes. Whether we need to load containers, install a PTO or build up a mixer including paintwork; we can take care of it. Below you can find some possibilities within the wide service offers of our workshop
If you have any questions about these services, or if you have other specific needs? Our salesteam can tell you all about the possibilities and prices.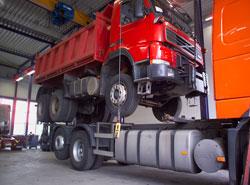 Loading trucks and trailers
Transportation and shipment of your truck or trailer is not cheap. To make sure your costs will be as low as possible we can load trucks and trailers in packages. In our workshop we have the right equipment to create the required package for you. We can make packages of multiple trailers, loading one or multiple trucks on a trailer or loading one truck on a.
Price: on demand and depending on type of package.
Loading passenger cars
Many of our customers load an extra passenger car on their purchased truck or trailer to keep the transport and shipping costs as low as possible. We can always load a passenger car on the truck or trailer you bought from us.
Price starting at: € 50,-
Loading containers
Our workshop can also easily load containers. We arrange the container and make sure your truck(s) are disassembled and loaded very carefully.
Price: € 950,-
Prepare for shipment
To prevent theft from your vehicle, we prepare your vehicle for shipment in a special way. We disassemble all cabin parts (dashboard, radio, tacho, etc.) and put this in a sealed metal box on the back of the truck. In this way you can be sure no parts will be stolen during the transport of your vehicle(s).
Price: starting from € 250,-
Service offers
When you buy a truck or trailer you can make use of our service offers such as new tyres and service checks.