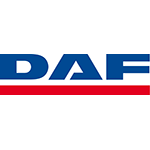 Used DAF trucks
DAF, a solid truck brand with a strong identity and very reliable trucks. This Holland-based truck manufacturer has been dominating the market for many decades right now. You can find a big stock of used DAF trucks in our assortment. DAF is known because of its good price quality ratio. Used DAF trucks and tractorheads can be divided mostly into 3 categories: light, medium and heavy-duty commercial vehicles. It doesn't matter what kind of transport company you have, we always have a DAF solution for you.
Used DAF trucks - worldwide shipping
If you have found a used DAF truck on our website, please do not hesitate to ask us more about it. Are you living in another country than Holland? No problem at all. At BAS Trucks, we have a special Transport & Shipping department. We can deliver your used DAF truck to any location worldwide, either by road transport or by boat. BAS Trucks offers very competitive all-in shipping prices. You can directly calculate the shipping price of your DAF truck on our website.
New DAF trucks
Are you interested in buying a new DAF truck? We regularly have DAF trucks and tractorheads on stock ranging from registration years 2014, 2015 and completely new. Of course we offer those trucks for very competitive prices. In 14 European countries it is also possible to lease a new DAF truck.
Did you know?
The first DAF Truck was built in the Netherlands in 1949
DAF Trucks is market leader in many European countries
DAF also used to sell cars and buses, but only produces trucks nowadays
The reason for DAF to start building trucks was because of truck scarcity after WWII
The DAF company has completed the Dakar Rally many times
Questions about purchasing a truck?
Please contact our sales team.
+31 413 37 11 11
Fast service
Doing business in your own language
Reliable partner
Always the best deals
Most sold DAF truck types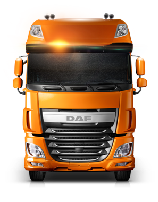 DAF XF trucks
The DAF Extra Forte is without any doubt the flagship of DAF. This truck is intended for international transport. With a service interval of 150.000 kilometers, the XF can be kept on the road for a very long time. The chassis is very strong and therefore provides the opportunity to transport heavy loads. This will lower your costs considerably. The price of a DAF XF is also very attractive compared to similar trucks from other brands.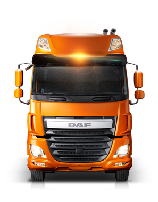 DAF CF trucks
The DAF Compact Forte is developed for many logistic purposes. This model is available in three cabin versions, three types of engines and many axle- and chassis configurations. There is always a DAF CF on the market that you can use for your business. Because of the high functionality, the operational costs are very low. Let us inform you about the DAF CF tractorheads that we have.