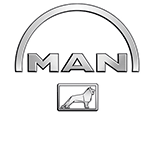 Used MAN trucks
MAN Trucks: the ultimate combination of German robustness and solid design lines. Used MAN trucks are exceptionally reliable and make a perfect choice for logistics companies and truck drivers who drive long distances. Used MAN trucks are known for their good return-on-investment. At BAS Trucks, we have MAN heavy duty vehicles in many types and models. Therefore, we always have a used MAN tractorhead or truck that is the best for your business.
Used MAN trucks - worldwide shipping
Please take a look at our large stock of used MAN trucks that we offer on our website. Our employees are glad to tell you more about the vehicles. Are you doubting how you can get your used MAN tractorhead shipped to your country? Let us know. Our Transport & Shipping department can arrange road or ship transports to your final destination, at very competitive prices. Just let us know what your wishes are!
New MAN trucks
At regular occasions, we have new MAN trucks and new MAN tractorheads in stock as well. As you can expect from BAS Trucks, these new MAN trucks are always offered at competitive prices. It's also possible to lease a new MAN truck in 14 European countries! Ask us about the leasing conditions for any MAN truck that you see, and we will send you a leasing offer you can't refuse!
Did you know?
The first MAN Truck was built in Germany in 1924
MAN was one of the developers of the Diesel engine, working together with dr. Rudolf Diesel
MAN built trucks for the German army in WWII. In 1945, it was severely damaged by Allied bombings
MAN produced the first V8 diesel turbo engine in 1951
MAN is a big player in the production of buses. You can spot them in big cities and at airports
Questions about purchasing a truck?
Please contact our sales team.
+31 413 37 11 11
Fast service
Doing business in your own language
Reliable partner
Always the best deals
Most sold MAN truck types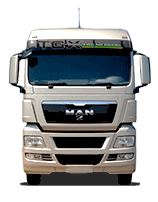 MAN TGX trucks
Looking at international long-distance trips, efficiency and productivity are critical factors to logistic companies. Especially for this purpose, MAN designed the MAN TGX. This truck has a royal cabin, provides low air-resistance, has low fuel costs and is extremely reliable. Also when it comes to safety, the MAN TGX scores very high in the used truck market.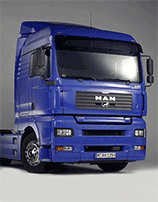 MAN TGA trucks
The MAN TGA is a very powerful truck that functions very well as a powerhouse on a building site to transport heavy loads as cement or concrete blocks, but it could as well be used as a tank truck to transport fuel. The TGA perfectly combines the possibilities for long-distance driving with functioning on less good surfaces, like sand or mud on building sites. A very good choice for companies with heavy loads.