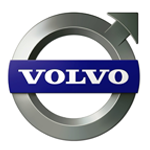 Used Volvo trucks
We from BAS Trucks know all about quality. And talking about quality means talking about Volvo trucks. Are you are looking for a truck that is reliable? High in safety? With a top driving comfort? Then stop looking for other trucks. A Volvo truck is all you need! It's not a surprise that Volvo trucks and tractorheads are the most sold by BAS Trucks. Every Volvo tractorhead from our stock is sold out very fast. Believe us: buying a second hand Volvo truck adds a lot of value to your company! There is always a big worldwide demand for these trucks, so don't hesitate to contact us if you have found the right vehicle.
Used Volvo trucks - worldwide shipping
Did you find a used Volvo tractorhead or Volvo truck where you want to know more about? Our professional sales team will be happy to tell you everything about it. And by the way, did you also know that BAS Trucks has a special Transport & Shipping department? We can deliver your Volvo truck to your chosen destination by road transport. Or we can transport your used Volvo tractorhead or truck to a harbor nearby and ship it towards your harbor of choice. We can offer a competitive all-in shipping price. Just let us know. Our services are unlimited!
New Volvo trucks
BAS Trucks sells a lot of used Volvo vehicles, but we also offer new Volvo trucks. Are you looking for a new Volvo truck with a recent registration year? The big advantage of a new Volvo truck is that you invest in the future of your company. If you cannot afford to purchase a new Volvo truck because of the higher sales price, then we also offer opportunities for truck leasing.
Did you know?
The first Volvo Truck was built in Sweden in 1928
Volvo is the second-largest truck manufacturer in the world
Volvo trucks are being produced in 16 countries
Volvo is the biggest employer in the whole of Sweden
The name 'Volvo' is deduced from Latin and means 'I roll'
Questions about purchasing a truck?
Please contact our sales team.
+31 413 37 11 11
Fast service
Doing business in your own language
Reliable partner
Always the best deals
Most sold Volvo truck types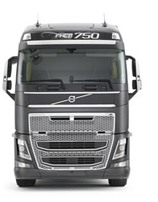 Volvo FH - New or used
Volvo FH, - or Volvo Forward Control High Cab. It's the most successful truck that Volvo has ever built. If your company is mostly handling international transport and/or transport with heavy loads, then the Volvo FH is the perfect choice. Many Volvo FH models are equipped with a Globetrotter cabin. This cabin is very high and provides an ultimate comfort for the truck driver, who is on a long way from home.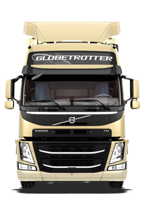 Volvo FM - New or used
Volvo FM, also known as Volvo Control Medium Height Cab. Because of the low entry, combined with many cabin- and engine variations, this truck is usable for all transport purposes. Ranging from city distribution to long distance transport, there is always a Volvo FM tractorhead that will suit your business. In comparison to the FH, the FM cabin is placed considerable lower on the chassis.