Transport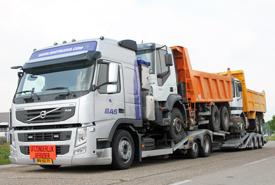 Transport all over Europe
We know the importance of having your truck or trailer in use as soon as possible. Therefore transport is an important part of our full service concept.
We offer you transport throughout Europe. Because of our own transportfleet and our wide network with international transport companies, we can transport your vehicle throughout Europa at competitive rates.
Transport to all European harbors
Each week we deliver dozens of vehicles for our customers at different European harbors. When you let us take care of the transport, we can often make sure that your truck or trailer is in the desired harbor within 24 hours. In the overview below you can find our transport rates:
PROMETNE CIJENE*
TRACTORHEAD 4x2 / VANS
OSTALA VOZILA

(OSIM STROJEVA)

LUKA
Nizozemska
€ 175,-
€ 250,-
Antwerpen
€ 225,-
€ 275,-
Belgija Zeebrugge
€ 250,-
€ 325,-
Njemačka - Lubeck / Travemunde
€ 650,-
€ 950,-
Francuska - Le Havre
€ 550,-
€ 950,-
GRADOVI
Bruxelles - Belgija
€ 250,-
€ 325,-
Dortmund - Njemačka
€ 250,-
€ 325,-
München - Njemačkay
€ 800,-
€ 975,-
Pariz - Francuska
€ 700,-
€ 975,-
Marseille - Franciaország
€ 1.350,-
Na zahtjev
Barcelona - Španjolska
€ 1.175,-
Na zahtjev
Madrid - Španjolska
€ 1.350,-
Na zahtjev
Cordoba - Španjolska
€ 1.500,-
Na zahtjev
Milano - Italija
€ 1.350,-
Na zahtjev
Ljubljana - Španjolska
€ 1.250,-
Na zahtjev
Varšava - Poljska
€ 1.200,-
Na zahtjev
Bukurešt - Rumunjska
€ 1.900,-
Na zahtjev
Sofija - Bugarska
€ 1.850,-
Na zahtjev
* All prices are indicative and dependent on the vehicle type and the size of the vehicle(s).
Last edit 03-02-2020
If you can't find the harbor you are looking for, or if you want more information, please contact us via our contact form.
We can also arrange the shipment of your vehicle, read more about our shipping services.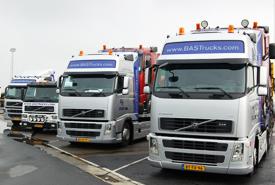 Own transport fleet
For transporting your truck or trailer we make use of our own transport fleet as much as possible. In our flexible planning we can directly schedule the transport of your truck or trailer and we make sure it fits into the delivery process. Since we have our independant transport planning, and since we have the possibilty to combine cargoes we can offer our customers a fast transport service at the best price.
You don't have to worry
When you let us take care of the transportation of your vehicle we guarantee a fast delivery. You don't have to worry about the delivery of your truck or trailer and you can just sit back until we deliver the vehicle at the required address. In the mean time, we will keep you up-to-date about the status of the transport via our customer portal "My BAS Trucks"
Read more about "My BAS Trucks"